Karthigai Deepam 2018 Flag Hosting
Karthigai Deepam Festival 2018 started today with the flag hosting in Thiruvannamalai Arunachaleswarar Temple, the traditional flag was hosted in the temple.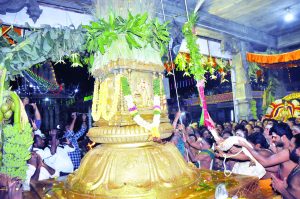 This festival will continue for another 13 days from today in a grand manner. On the 6th day, i.e. 19th Nov 2018 – Silver Radham, 7th Day 20th Nov 2018 will be Pancha Murthigal Maha Radham is very famous in this festival.
Karthigai Deepam will be celebrated on 10th day i.e 21st November 2018, Bharani Deepam will be celebrated in the early houurs of the morning and the Maha Deepam is celebrated in the evening at around 6:00 PM.
Also Read : Karthigai Deepam Festival 2018 Tiruvannamalai – Schedule
Thiruvannamalai Maha Karthigai Deepam will be visible at around 6 pm at the top of 2668 ft high holy mountain. The entire Mountain is for Lord Shiva. Sri Arunachaleswarar will bless devotees in the Temple at the time of lighting the Maha Deepam.