Sri Garbarakshambigai Temple, Thirukarugavur Pooja Details
Sri Mullaivananatharswamy and Garbarakshambigai Amman temple is located in  Thirukarukavur,  Papanasam Taluk,  Thanjavur District.
The important feature of this temple from the other shrines is that, Goddess Sri Garbarakshambigai Amman here cures infertility related problems to women, blesses them to conceive and also helps them for safe and trouble free delivery.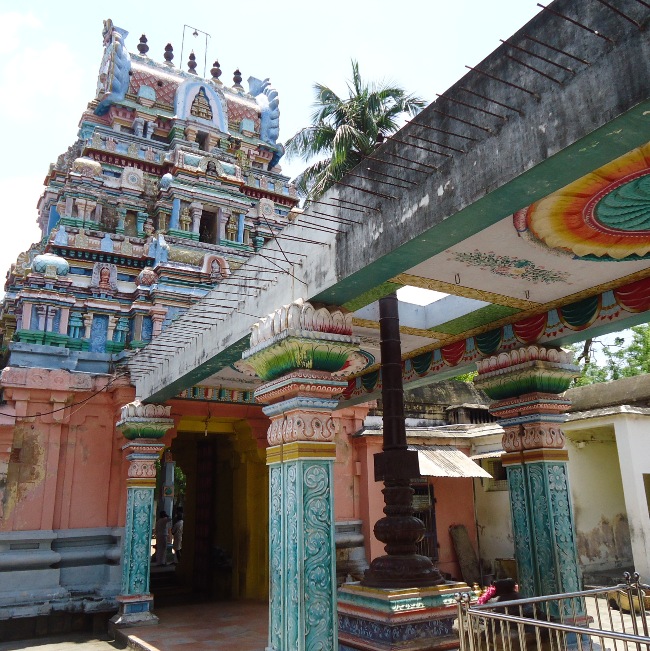 History says that Sri Garbarakshambigai Amman blessed her ardent devotee Vedhikai to conceive and when Vedhikai almost lost her fetus, Goddess Garbarakshambigai came to her rescue, protected her fetus and blessed her for safe delivery. Numerous devotees who long for a child have been blessed by this divine mother. The uniform experiences of the people who have been blessed by this divine deity are testimony of her benevolence
1) Ghee prasadam pooja. (To conceive)
2) Castor oil prasadam pooja. (For Safe delivery)
3) Punugu sattam pooja.( For better health )
4) Abishegam.
5) Annadhanam.
6) Kattalai Archanai.
7) Nava kodi nei theepam (nine crores ghee lamps)
8) Sandana kappu.(Sandal Paste offering)
9) Thanga thottil
10) Thulaa-bharam
11) Ear boring and Head tonsure.
Cost of Poojas
Temple administrators will perform the poojas to the devotees who are unable to visit this temple and they will send the pooja prasadams by posts. Check the official Garbaratchambigai Temple website for payment details.
Pooja cost details below:
| Sl.No | Types of Poojas | Prasadams to places within India | Prasadam to overseas |
| --- | --- | --- | --- |
| 1 | Blessed Ghee for pregnancy | Rs 200 | Rs 500 |
| 2 | Blessed castor Oil for safe and easy delivery | Rs 200 | Rs 500 |
| 3 | Punugu sattam for health | Rs 100 | Rs 300 |
| 4 | Abishegam | Rs 700 | Rs 700 |
| 5 | Annadhanam (for 50 persons) | Rs 1500 | Rs 1500 |
| 6 | Kattalai archanai for 12 months(1 year) | Rs 300 | Rs 600 |
| 7 | Niranthara kattlai archanai (life time) | Rs 3000 | Rs 6000 |
| 8 | Navakodi nei theepam.(Nine crore ghee lamp lighting) | Rs 75 | Rs 300 |
| 9 | Sandana Kappu (Sandalwood paste offering) | Rs 10000 | Rs 10000 |
| 10 | *Thanga Thottil | Rs 550 | Rs 550 |
| 11 | Annadhanam (for 100 persons) | Rs 3000 | Rs 3000 |
| 12 | Fixed Deposit | Rs 20,000 | Rs 20,000 |