Subramanya Swamy Temple, Kundrathur, Chennai
Arulmigu Subramanya Swamy Temple located in Kundrathur, Chennai – 600069, Tamilnadu
This temple was constructed by King Kulothunga Chola II. This temple located in hill place in chennai,, round 84 steps to reach this temple
Temple Timings
Morning
06.00 AM To 01.00 PM
Evening
03.30 PM To 08.30 PM
Lord Murugan stayed on the hill during his travels from Tiruporur to Truttanigai.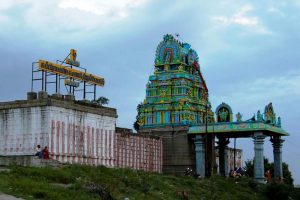 This place is also known as South Thanigai since Lord Subramaniar is standing facing the direction of north, facing Thanigai.
This is the only Murugan temple in Tamil Nadu where the God is standing in a North Facing Direction.
The speciality of this temple is that Lord Subramaniar can be seen only with one Goddess at a time even though he is there along with both the Goddesses.
Also Read : Pooja Timings in Subramanya Swamy Temple, Kundrathur, Chennai
If the God is viewed from one side he can be seen along with Goddess Valli and viewed from the other side, he can be seen along with Goddess Deivayanai.