Ugadi Asthanam event on 6th April 2019 in Tirumala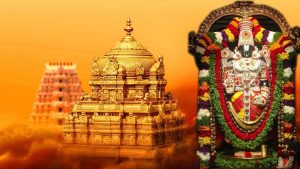 TTD plans to grandly celebrate the Ugadi Asthanam event on April 6 inside the Srivari Temple, Tirumala.
As part of the event after daily rituals, Panchanga Sravana program heralding the advent of Sri Vikari Nama Samvatsaram will be conducted at the Bangaru vakili inside the Srivari temple.
The Agama pundits and Archakas and senior TTD officials will conduct Ugadi Asthanam after colourful rituals like new silk robes to moola Virat and utsava idols.
Ahead of Ugadi festival the TTD will perform the Koil Alwar Thirumanjanam event in the temple on April 2.
The TTD has cancelled daily Arjita sevas slated for the day in the Srivari temple.
Source : Tirumala News