The Karur Kalyana Pasupatheeswarar Temple was built during the period of the Cholas. Karur is believed to be among the five capitals of the Cholas. From the inscriptions so far deciphered, it is clear that the temple existed during the reign of the king Rajendra Chola (1012-54 A.D.)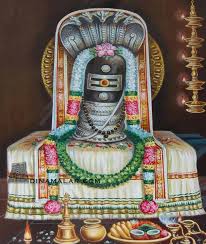 கரூர் கல்யாணபசுபதீஸ்வரர் திருக்கோயில் – தல வரலாறு:
பிரம்மனுக்கு தன் படைப்புத் திறனால் ஏற்பட்ட கர்வத்தை அடக்க சிவபெருமான் காமதேனுவை கொண்டு திருவிளையாடல் நடத்தினார். அதன்படி காமதேனு, நாரதர் கூறியபடி பூமிக்கு வந்து , வஞ்சி வனமாக இருந்த இத்தலத்தில் தவம் செய்தது. அப்போது, ""புற்று ஒன்றிற்குள் பாதாளத்தில் ஆதிலிங்கம் இருக்கும். அதை வழிபடு,' என்று அசரீரி கேட்டது. அதன்படி காமதேனுவும் தன் மடியிலிருந்த பாலை சொரிந்து தினமும் வழிபாடு செய்தது.
ஒரு நாள் இறைவன் திருமுடியில் காமதேனுவின் குளம்பு பட்டுவிடவே, லிங்கத்தில் ரத்தம் வந்தது. இதனால் காமதேனு மனம் வருந்தியது. இதனைக்கண்ட இறைவன், காமதேனுவிடம், ""நீ என்னை வழிபட்ட காரணத்தினால் இந்த உலகம் என்னை பசுபதிநாதர் என்ற பெயரால் அழைக்கும். அத்துடன் நீயும் பிரம்மனைப்போல் படைப்பு தொழில் செய்வாய்,' என்று வரம் தந்தார். அதன்படி காமதேனுவும் படைப்பு தொழில் செய்ய பிரம்மன் கர்வம் நீங்கினான்.
இதையடுத்து இறைவன் படைப்புத் தொழிலை பிரம்மனிடம் ஒப்படைத்து விட்டு காமதேனுவை சொர்க்கத்துக்கு அழைத்துக் கொண்டார் என்று இத்தல வரலாறு கூறுகிறது.
கரூர் கல்யாணபசுபதீஸ்வரர் திருக்கோயில் சிறப்பம்சம்:
அதிசயத்தின் அடிப்படையில்: இங்கு சிவன் சுயம்பு மூர்த்தியாக அருள்பாலிக்கிறார், சிறிது சாய்வாக உள்ளது. ஆவுடையார் சதுரமாக உள்ளது. மாசி மாதத்தில் ஐந்து நாட்கள் சுவாமி மீது சூரிய ஒளி படுகிறது.
---
Of the seven Shiva Shrines of the Kongu Region, Karur Pasupatheeswarar is considered first and foremost. Emperor Musukunda, belonging to the Skanda Mahapurana period is believed to have undertaken renovation of the temple. According to the history of the place, Emperor Musukunda was extended an invitation to attend the wedding of Lord Muruga that took place in Tiruparankundram near Madurai.
Karur has the reputation that Siddha Karuvurar lived here. He has praised the Lord in his Thiruvisaippa hymns. As Karuvurar dissolved himself with the Lord, the Linga is found in a slanting position. Saint Thirugnanasambandar had also praised the Lord in his Thevaram. So Arunagiriyar His favourite deity Muruga in the temple.Karur also was the place of residence of Eripathanayanar, Pugazh Chola Nayanar . On 14, 15 and 16th of Panguni Tamil month (March-April) Sun rays fall on the shrine.
Lord Brahmma became proud of his position as Creator of the world. To teach him a lesson, Lord Shiva made divine cow Kamadenu come to Earth through Narada to perform penance on Him in this place, a forest of Vanji trees then. A divine voice instructed Kamadenu to worship the Linga hidden in an anthill there. Following the instructions, Kamadenu was pouring its milk on Lord in the anthill. As its foot hit the Linga in, it began to bleed. Lord told Kamadenu that He would be worshipped as Pasupathi Nathar as the cow (Kamadenu) worshipped Him and that Kamadenu would do the creation work. Kamadenu began the job that wiped of the pride of Brahmma. Merciful Lord returned the creation job to Brahmma then and took Kamadenu with Him.
Arulmigu Kalyana Pasupatheswarar Temple Timings
| S No | Temple Pooja Timing | Timings |
| --- | --- | --- |
| 1 | Morning | 6 am to 12.30 pm |
| 2 | Evening | 4 pm to 8.30 pm |
Arulmigu Kalyana Pasupatheswarar Temple – Pooja Timings
Pooja Timings :
The Five Kaala Pooja are conducted according to the Kaarana Nagama Pooja system.
Sivan Temple
Pooja
Timings
Ushakkala Pooja (Sun Rise Pooja)
06:00 A.M
Kaalasandhi Pooja
07:00 A.M
Uchikkala Poojaa (Noon Pooja)
12:00 Noon
Saayaraksha Pooja (Sunset Pooja)
06:00 P.M
Ardhajama Pooja (Night Pooja)
08:00 P.M
This Two Kaala Pooja are conducted according to the Pancharathra Aagamma Pooja system.
Vishnu Temple
Pooja
Timings
Kalasandhi Pooja
07:00 A.M
Saayaraksha Pooja
06:00 P.M
Arulmigu Kalyana Pasupatheswarar Temple – Fees Structure
Fees Structure :
Fees Structure

Details
Fees
Milk Abishekam
1.00
Thiruvilakku Pooja
1.00
Archanai
2.00
Nei Deepam
2.00
Archanai
2.00
Cycle Pooja
2.00
Two / Three Wheeler Pooja
5.00
Special Entrance
5.00
Sahasranaamam
5.00
Car Pooja
10.00
Thala Varalaaru
15.00
Van, Bus, Lorry Pooja
20.00
Abishekam
50.00
Irumudi
50.00
Sri Kaalapairavar Milk Abishekam
100.00
Ear boring, Engagement
250.00
Karuvar Sanathi Pournami pooja
150.00