Thiruchendur Subramaniya Swamy Pooja Timings
Thiruchendur Arulmigu Subramaniya Swamy Temple is one of the Arupadai Veedu for Lord Murugan, particulary this the 2nd Arupadai Veedu of Lord Muruga. Lord Muruga won the battle with the asura, Surapadma and worshipped Lord Shiva in this sacred place. The temple is situated near to the shores of the Bay of Bengal and has a seven tier Gopuram.
Skanda Sasti, a devotional song in praise of Lord Muruga are performed at the temple.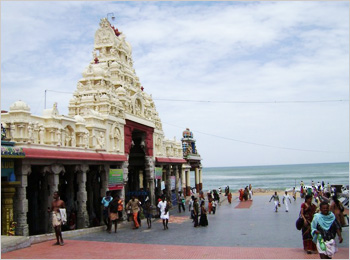 Pooja Timings
Time
Pooja Detail
5.10 AM
Subrapadam – Thirupalli Eluchi
5.30 AM
Viswaroopam Darshan
5.45 AM
Dwajasthamba Namaskaram
6.15 AM
Udaya Marthanda Abishegam
7.00 AM
Udaya Marthanda Deeparadhanai
8.00 to 8.30 AM
Kalasandhi Pooja
10.00 AM
Kalasha Pooja
10.30 AM
Uchikala Abishegam
12:00 PM
Uchikala Deeparadhanai
5:00 PM
Sayaratchai Pooja
7.15 PM
Arthasama Abishegam
8.15 PM
Arthasama Pooja
8.30 PM
Ekanda Seva
8.45 PM
Ragasia Deeparadhanai, Palliarai Pooja
9:00 PM
Nadai Thirukappiduthal
Also Read : Thiruchendur Subramaniya Swamy Temple Timings